What do the latest construction output figures tell us?
What do the latest construction output figures tell us?
Making sense of the latest construction output release is far from straightforward, not least because the revisions made this month are huge.
The adoption of an interim new approach to determining the output price indices generated major revisions.
The current set of data offer a range of possible stories and interpretations of what's occurring within the construction industry.
Depending how you read the data you get a very varied sense of what's going on. Here's a few nuggets you could smelt into a narrative depending on your interest:
The construction industry is £3.7 billion bigger than we thought it was a month ago
Construction growth in 2014 was a whopping 9.5%
The revisions to construction output will raise 2014 GDP growth from 2.8% to 2.9%
On a quarterly basis construction is at its late 2008 level
Quarterly construction activity is now shy of its 2008 q1 peak by just 4% to 5%
Construction activity dipped in April
Construction prices have risen less than 4% over the past two years
Prices for private housing repair and maintenance have fallen 2% over two years
From these you can pull a variety of headlines from "major boost to UK", through "fall in construction output" to "home owners see fall in builders' prices".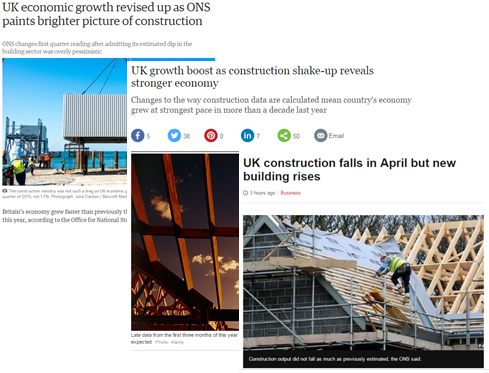 The media will of course perfectly reasonably take its pick from the smorgasbord of angles offered by this release. As we see in headlines from the Guardian and Telegraph focused on the general economy, while the BBC decided the monthly drop mattered.
I'd be surprised if anyone spotted the implied fall in the cost of private sector housing repairs and maintenance. Great story, if it's true, don't you think. Mind you, you'd have to check that it is not just the result of a higher proportion of repairs being in cheaper areas.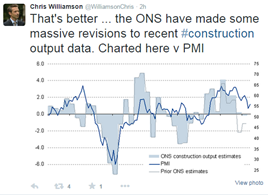 Meanwhile producers of construction survey data may have found it too tempting to avoid comments that suggest: "I told you so". We can see in his twitter feed, Markit's chief economist Chris Williamson take on the revisions.
I too could enter such a smugfest, safe in the knowledge that a month ago I said: "So a more accurate reading of the output survey data might be that the industry has been pretty flat over the past year or so."
That's basically what the revisions delivered. They show that seasonally-adjusted constant-price monthly output stayed, plus or minus, within about 2% of £10.4 billion over the past 12 months or so. For a volatile industry that's flat.
Having now just joined the smugfest to make a point (and obviously to sneak in a boast) I should point out that it is at best naïve and at worst silly and distasteful to derive any smugness here. It may prove short-lived.
Also, in truth I was a bit surprised at the size of the upward revisions this month. I expected a lesser increase in the adjusted data and probably didn't expect such an uplift in the base data that resulted from late returns of survey data. I'll not go into why.
Do I believe what I see in the figures is a fair representation of what's going on in the industry? Yes and No.
But what I do know is that the pattern we see in these figures is far from settled. There will be more revisions and they could potentially radically alter whatever assumptions we might draw from the data we see in the latest release.
As I tweeted when the data were released, the key word when appraising this month's data is "interim".
Putting all the above confusion to one side, what do the latest figures suggest?
I suspect they point to an industry on the up, driven largely by the private sector. It may well have been taking a breath in recent months as the effects of rapid restocking ease. (That was bold!)
On that basis, with what we know about the re-establishment of deep austerity, I suspect it all means that the industry's future will probably rests on the performance of the wider economy. So let's hope Mr Osborne's marvellous medicine doesn't result in below-par GDP growth.
Later I intend to turn some thought to how we might address the issues in the construction output data that are leading to major revisions.