Construction recovery stalls, but the forecasts remain bright
Construction recovery stalls, but the forecasts remain bright
The latest official output data from the Office for National Statistics show growth apparently stalling in the second quarter.
This may seem at odds with trade surveys and media commentary which tend to point to construction booming. It's not really.
Despite the zero growth recorded by ONS for output in the second quarter of this year, at the risk of doing a Michael Fish, I think we can be confident that the industry is pretty much set on an upward path. There's nothing startling on examining the data that would suggest otherwise.
Though I'm not sure I'd call it a boom, more a rebound – finally.
You'd hope so. The gap between output at peak and today is still 10%. Forecasters expect the industry may just about have recovered the lost ground by 2016.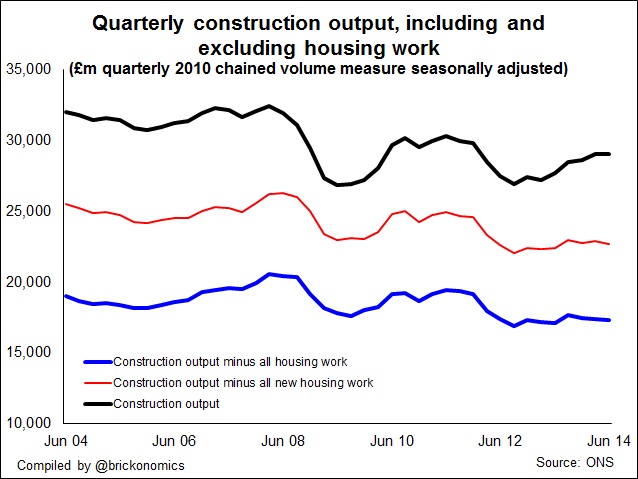 The latest ONS data release does, usefully in my view, provide a reality check. The release reminds us that recoveries can be bumpy and uneven affairs. Indeed, the data release prompted me to make this point by cheekily tweeting that if it were not for housing-related work construction would be in recession.
But even non-domestic construction is, I think, actually on the mend. It tends to take a bit more time to recover. The data supports optimism that the recovery is starting to spread into corners so far left untouched. But while work in the pipeline is pumping up, at this stage recovery in work on the ground will remain patchy.
So suggestions that things are hunky dory in construction will inevitably jar with many folk who are still struggling.
The ONS figures overall put output in the second quarter up 4.5 % on a year ago. That's sound growth. But this is down to some sectors in some regions recovering far quicker than others. This is best characterised by the strong housing growth supporting boom-time growth rates in London.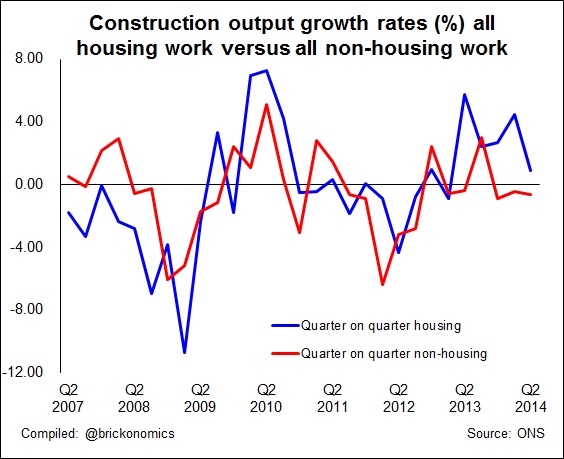 London, incidentally, is where most national policy makers and opinion formers reside. It's understandable that their view of the national picture is shaped by what they see around them. Many will not be able to look beyond the effects of housing output being double its 2007 level in London to appreciate the effects in other regions of housing output being 30% to 40% down on 2007 while public sector is shrinking and private commercial and industrial building activity is still fairly fragile.
As to the reasons for this recovery in construction, there's little magical, unexpected or extraordinary. By and large when there's sustained growth in gross domestic product there tends to be growth in construction. This holds true in the UK as it does in Argentina, Botswana and China.
After a long period flatlining the UK economy has woken up and enjoyed a year and a half or so of sustained and fairly robust growth. Forecasts suggest this period of growth will remain strong for some time yet. So there is a platform that supports growth in construction.
The latest set of industry forecasts support this. Two, Experian and Construction Products Association, expect strong growth from here, expanding the industry by about 10% over two years. Growth will be particularly strong for new work. The Hewes forecast shows growth, but it is weaker and expected to evaporate in 2016.
The Hewes forecast tends to factor in more of the downside risks rather than taking a strictly central position. One of the growing risks noted by Hewes is the rising cost of construction. This, Hewes argues, will restrain the construction growth of output in volume terms – the normal measure used.
Hewes is also pessimistic on a return to growth for the commercial sector. It forecasts persistent falls for a couple of years, compared with annual rises of about 4% to 5% forecast by Experian and Construction Products Association.
But even the more pessimistic take on risk from Hewes shows the industry improving.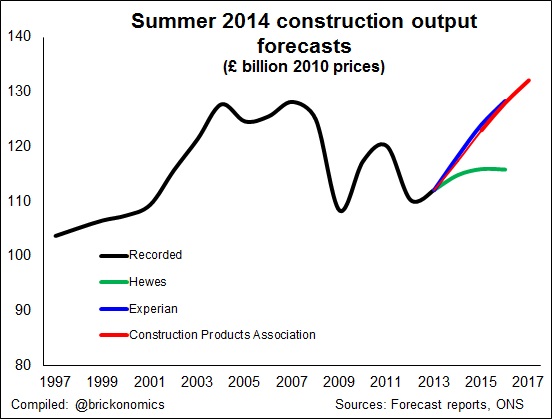 There are upside risks to these forecasts. If they are realised and release greater confidence to build, they might easily out gun those on the downside. There's huge potential demand for construction if the confidence and finance can be found. The slump in building work will in some quarters have created a backlog of work that needs addressing. The need to address the nation's energy supply being a major issue. Furthermore the population continues to grow adding pressure for more homes and infrastructure increases.
There are also structural changes in the economy relating to the increased use of information technology. This is changing how we use buildings and where they need to be located. The changes should result in demand for construction as the built environment is adapted to suit.
Naturally the General Election in 2015 represents a real risk. But by comparison to 2010 the risks may be stacked on the upside.
The last election was fought on the battleground of austerity. That is not good for capital spending. This time around it seems that all political parties are increasingly emphasising the benefits of investment in housing and the nation's transport infrastructure. In the bidding war for voters there is a fair chance this may push spending on construction up rather than down the agenda.
Downside risks remain. When and how fast will interest rates rise and how will rises impact on investment and consumer spending? What might unwinding quantitative easing mean for investment? The current recovery is reliant on consumer spending, despite low earnings growth, how long before we see a more balance recovery? Will the Eurozone troubles remain contained? Will fear over capacity constraints restrain investment in construction? How will global political instability impact on economic growth? What effect might independence for Scotland have on construction? And there are plenty more.
There will always be risks, but in the round construction is in a much stronger position than it has been for some time. Work is easier to find and will become so for ever more firms in the industry. And there are plenty of reasons for optimism in the longer term.
That, however, doesn't mean everyone is seeing improvements and everyone will. More importantly, while work may be easier to find, the industry has a tough job on its hands rebuilding its own infrastructure, particularly its skills based, as it drags itself out of the slough of long and painful depression.