Forecasters see strong growth for construction – but, then again, the General Election is coming…
Forecasters see strong growth for construction – but, then again, the General Election is coming…
The latest industry forecast will put a smile on the face of the UK construction folk. The recovery is now expected to move faster having arrived earlier than forecasters expected just three months ago.
The Construction Products Association now expects to see growth in 2013 of 1% instead of the slight decline it forecast three months ago. It has also raised its forecast for 2014 to 3.4% against 2.7%. Its 2015 forecast was raised from 4.6% to very strong 5.2%. Its projections for 2016 and 2017 however were trimmed.
The twice-yearly Leading Edge forecast was also revised up. It is, as the graph shows, even more bullish short term.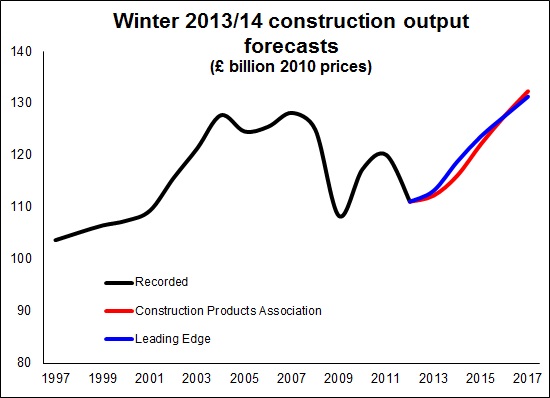 For what it's worth, the forecasts suggest that construction will be back on its long-term (since 1955) trend line by 2015, although changes to data collection and industry definitions does make that observation a bit iffy.
So, inevitably there will be a sense that things are getting back to normal.
Certainly, compared with earlier forecasts, there seems less of a sense of downside risk and uncertainty. And the growth figures are significantly large to suggest that a dip back into recession over the next five years seems very unlikely. Indeed this year is expected to be the last to see a decline in any of the major sectors.
All great news then?
Yes, but you'd be a nutter not to recognise that there will be risks and not to spot the political convenience of a rising economy in a run up to a General Election.
So what are we seeing here?
Part of the uplift in the numbers, at least near-term, will be down to revisions made by the Office for National Statistics a couple of months ago. These revisions added about £1.5 billion to the official estimate of construction output.
But strip that out, the main reason for the greater optimism within the forecasts is the recent stream of more upbeat data. The economy and construction are on a much steeper upward path, finally, after bumbling along in the valley of recession. The RICS construction survey and the Markit/CIPS PMI data have gone pretty much stratospheric and it's hard to find a downbeat construction trade survey.
On the ground the uplift in house building has received much attention, but what is most noteworthy in these forecasts is the revised outlook for commercial building.
Housing and commercial building dominate the new-build sector. So having both of them growing strongly does provide a big impetus to growth overall.
But importantly the recovery is spreading out from its heavy reliance on housing in London and the South and, to a lesser extent in the public's eye, infrastructure.
There now seems to be a more widespread improvement. This was a point picked up in the previous two brickonomics blogs. It also helps explain why trade surveys appear so bullish. A large majority of firms now appear to be enjoying some growth – how much and how well spread is harder to tell.
This suggests improving economy generally, along with fewer worries over economics risks, is helping to lift the boats of more construction businesses around the nation as investors take the plunge and commission construction.
Certainly the regional prognostications produced by Leading Edge suggest much more widespread growth than in the previous forecast.
This is very encouraging.
But when we look at what's driving the economy things are a little less comforting. Since the summer of 2012 consumer credit has been rising. Over the year to November 2013 the stock rose 5%.
It's true that mortgage debt is not growing as fast, currently at about 0.6% a year. But interpretation here is important given the asymmetric distribution, where long-term mortgage holders have low debt and are enjoying low interest rates. There are about 1% fewer mortgages than a year ago.
So consumer debt seems to be a factor buoying the economy. Meanwhile, business investment doesn't look anywhere near as rosy, having a negative contribution to growth along with exports in 2013 Q3. Government expenditure, meanwhile, has been contributing to GDP growth.
This is a long step from the nicely-balanced economy of the Chancellor's hopes and dreams. And with George Osborne still highlighting the need for austerity in the future, have we just witnessed an easing of austerity before it is re-emphasised after the General Election?
Meanwhile, the economy is still receiving the economic equivalent of the stimulants and analgesics you'd expect of a patient in intensive care – Help to Buy and Funding for Lending, combined with quantitative easing and a Bank rate that hasn't been this low for this long for as long as there has been a Bank of England.
This all needs to come out of the system, we would expect.
The real uncertainty I see within these forecasts is how well embedded and sustainable will the recovery be in early 2015. Because there seem to be some very awkward and uncomfortable policy manoeuvres to come.
But looking on the bright side, whether these forecasts are a bit on the optimistic side or whether they actually understate the momentum building behind the construction sector, they certainly provide plenty of scope for the industry to invest in itself and boost recruitment and development of talent.