Growth for construction in third quarter, but less than some surveys suggested
Growth for construction in third quarter, but less than some surveys suggested
The latest construction output data shows the industry is growing, but a little less quickly than the earlier official estimate and significantly less than some surveys suggested.
According to the figures output in the third quarter rose 1.7%, compared with an earlier estimate of 2.5% provided with the GDP figures released late last month.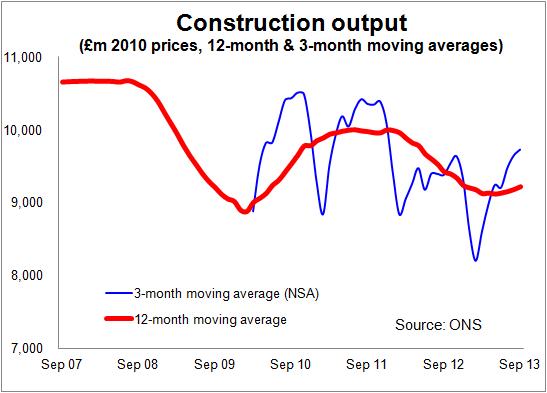 Broadly speaking this is of no great consequence. The key point is that activity has now increased for two successive quarters and there's growing confidence that recovery is happening rather faster than might have been expected at the start of the year.
The graph (right) shows how the industry seems to have turned the corner and the improvement in the three-monthly moving average is a positive sign that short term the industry is pretty buoyant.
Unsurprisingly new private housing is leading the charge. Activity in this sector was up almost 16% in the third quarter compared with the same period a year ago. And encouragingly there has been some growth in social housing too over the past six months.
The private commercial sector also looks to be picking up after suffering a nasty chill last winter.
The overall effect was relatively strong growth in new build work in the third quarter. However, repair and maintenance work looked a bit less lively.
It remains fairly early days in the recovery, so the underlying rate of improvement is hard to gauge.
The soundings that suggest the recovery is broadening, with plenty of anecdotal evidence that the commercial sector looking a bit stronger, is encouraging.
And with next year very much a big one for the Chancellor, as he eyes the General Election, he will be far less prudent as he seeks to garner votes for delivering, if rather late in the day, a growing economy. This rather plays in the favour of the construction industry, especially as house building is clearly seen by George Osborne as a strong suit.
However, there are plenty of potential traps that lie ahead. Not least among them the danger that of main contractors get squeezed between low bids secured during tougher times and rising input costs as their supply base seeks to restore prices to a more sustainable level.
Such are the problems faced by an industry when it turns from slump to growth.