Are we ignoring one of the biggest construction opportunities out there?
Are we ignoring one of the biggest construction opportunities out there?
One of the greatest challenges for the nation is to repurpose its outmoded built environment to better match the needs of a vastly changed world.
It needs to adapt offices and shops to fit with the Internet age. It needs to meet the environmental challenges. It needs to improve all forms of communication. And not last and definitely not least it needs to adapt and expand its stock of housing to meet massive demographic shifts.
This is a topic that has fascinated me for a couple of years or so.
Just think, the gross capital stock of UK buildings and structures is valued at about £4 trillion. Much of the stock needs to be repurposed to meet today's demands. For an industry with a total output below £120 billion a year, this offers massive opportunities for construction – if the cash to fund them can be found.
The Government at least is now seeing one of the big opportunities inherent in the process of repurposing the built environment.
Prompted by the Demos report Top of the Ladder, supported by the Home Builders Federation, Government ministers now see the opportunities and the needs presented by the swelling ranks of the elderly.
Reporting from a Conservative Party fringe meeting Building's Joey Gradiner quoted planning minister Nick Boles as saying: "One thing that mystifies me, given that there are few things as predictable as how our demographics are going to change, yet it seems bizarre how little specifically designed housing there is for older people."
Homes owned by older people are by and large the most under occupied. That is silly, socially and economically, given that families increasingly squeeze into smaller homes.
The myth is that all old folk want to stay put. That is not true, suggests Demos. It found 58% of people over 60 were interested in moving.
This fits with the findings of a paper in the Housing Market Intelligence 2012 report based on Understanding Society data. It found that about 21% of people 65 and over actually wanted to move.
It should be noted older people are more likely to be home owners and this figure does not include all who are interested in moving. So this is a strong finding given that the national average across all tenures and age groups (including rapidly moving young renters) suggests that 35% of households want to move.
What was particularly interesting about the Understanding Society data is that it suggests older people are less able to satisfy their desire to move.
(Here, I should declare interest as the Editor of Housing Market Intelligence and co-author of the paper with Birgitta Rabe, research fellow at the Institute for Social and Economic Research, Essex)
Meanwhile, a paper to be published in this year's Housing Market Intelligence report produced by Neal Hudson of Savills shows the scale of the opportunities across the country, not only to improve the lot of elderly people, but also to fund a huge programme of building specifically aimed at them.
The net outcome could be to free up large amounts of existing stock for families (relieving housing pressures there), create better homes for the elderly (making their lives better) and producing a massive amount of useful work for the construction industry (making many of the readers of this blog happy).
It would also make the overall stock more environmentally efficient and better fit for purpose. That too would be pleasing.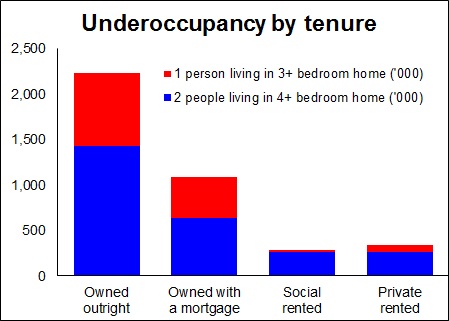 The English housing survey data shows under-occupation (two or more spare bedrooms) has risen within privately-owned homes, despite the growing housing crisis, from 44% of homes in 2003 to 49% in 2012. This is largely down to swelling numbers of older people occupying family-sized homes.
The top graph (both are from the forthcoming Housing Market Intelligence report) shows where the under-occupancy is most prevalent. And it is worth noting that about 4 million of the 7 million homes owned outright in England are owned by people aged over 65. And a large slice of these are large houses.
Hudson's paper actually looks beyond just the elderly. It looks at second homes and student accommodation to see how efficiently we are using our housing stock. The second graph provides a hint of the scale of inefficiency at a regional level.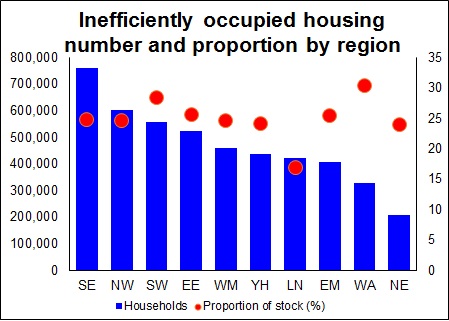 And using census and other data, Hudson finds that there is more than £500 billion of housing equity in the hands of one and two-person households living in properties that appear larger than they require. His research also highlights where the density of this under-occupation is largest.
The Demos report came up with a similar scale for the wall of cash potentially available. It estimated that the over 60s interested in downsizing specifically are sitting on £400 billion of housing wealth out of a total of £1.23 trillion unmortgaged housing wealth.
So we appear to have people with significant amounts of money, people who want to move yet a lack of suitable homes for them.
There is clearly a place for construction here. But the solutions are not simple. It is not just about building bungalows in seaside towns.
The needs and interests of the retired and those looking towards retirement will be varied, differing family to family, town to town, region to region. The solutions must not be about compulsion, but providing more appropriate choices that will encourage a shift to a more efficient use of the housing stock.
What a challenge for the construction and house building industry.
Give this growing group better homes to choose to live in. Release more housing for families struggling to find homes. And release the funds to finance the whole deal.
Synergies like that don't come along every day.